Did you know that A&W is the first American chain restaurant to reach its 100-year milestone? (*)
Let us guess. You think their century mark in the industry is all because of their root beer float.
While it's their most popular food item, it's not only the reason why people head to this fantastic restaurant.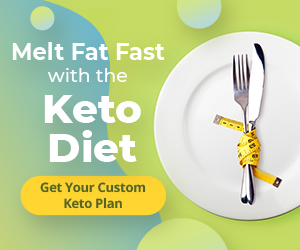 The truth is, these other reasons are perfect for your keto diet.
Which reasons are we talking about? Their burgers, of course.
People behind A&W were the inventors of the Bacon cheeseburger in 1963. (*)
As if that's not enough, they now offer lettuce-wrapped burgers and bunless hotdogs.
But wait, there's more. They even invented a keto-friendly beverage too!
The best part is you can find all the A&W keto food and drink items in this article, so let's get going!
A&W Keto Dishes You Can Order
Below are some of the dishes you can order at A&W when on keto:
Classic Burgers
Let's begin with their famous hamburgers.
Keto Tip: Order lettuce-wrapped burgers to keep it low carb.
1. Third-Pound Double Burgers
First on our list is the thickest burger patty there is. The burger includes 2 pieces of 1/3 lb. of their juicy and delicious burgers.
The burger comes with lettuce, tomato, and onion slices. In addition, you can add a few pieces of bacon to boost the fat content of the burgers.
Nutrition facts per serving: 590 to 650 calories, 29 to 36g fats, 41 to 42g carbs, and 38 to 39g protein
2. Papa Burger
Here's another burger that comes with 2 patties. After all, it's double the patties, double the fun (and fats!).
In addition to the patties, the burger also contains two slices of melted American cheese. It is finished with tomato, pickles, onion, lettuce, and the classic A&W Papa sauce to make all the ingredients come together.
Nutrition facts per serving: 640 calories, 35g fats, 42g net carbs, and 38g protein.
3. Bacon Double Cheeseburger
If you love pork and beef, you can enjoy both in this fat-packed burger. It features 2 pieces of 1/3 lb patty made with 100% US Beef and topped with melted American cheese.
It's then topped off with onions, tomatoes, pickles, and hickory-smoked bacon, which adds fats, fiber, and flavor to the entire meal.
Nutrition facts per serving: 650 calories, 36g fats, 41g carbs, and 39g protein.
4. Original Bacon Cheeseburger
Now, let's talk about their original bacon cheeseburger, which is everything a bacon cheeseburger should be. Trust them. After all, they are the ones who invented it!
So what's inside? Well, you can find the best comfort food duo in the world—100% US beef patty and hickory-smoked bacon.
As if that's not enough, they even threw in all the things that make up the best burgers. These include American cheese, tomato, pickles, onions, and lettuce—the works!
Nutrition facts per serving: 460 calories, 23g fats, 40g carbs, and 23g protein.
5. Cheeseburger
Now, let's head on to the simpler burgers. First up is their cheeseburger, which contains mainly their signature burger patty and American cheese.
They added a few condiments to make it more flavorful—ketchup, mustard, and pickles.
Nutrition facts per serving: 400 calories, 16g fats, 42g carbs, and 22g protein.
6. Hamburger
Last but not least, we have their simplest burger of all. We highly recommend this option if you want to keep your meal simple yet delicious.
Aside from the 100% beef patty, the burger has mustard, ketchup, and pickles. That's it!
Nutrition facts per serving: 350 calories, 11g fats, 41g carbs, and 20g protein.
Hot Dogs
Of course, they have another fantastic comfort food on their menu: hot dogs!
Keto Tip: Order this without the bun.
7. Hot Dog
This one's an all-beef frank—no muss, no fuss!
Nutrition facts per serving: 310 calories, 18g fats, 28g carbs, and 10g protein.
8. Coney Dog
If you want more meat in your hotdog, this is your option. It includes an all-beef hotdog topped with their signature meaty chili sauce and diced onions.
Nutrition facts per serving: 320 calories, 19g fats, 26g carbs, and 12g protein.
9. Coney Cheese Dog
This contains the same ingredients you can find in the coney dog plus one more—melted cheese!
Nutrition facts per serving: 360 calories, 22g fats, 29g carbs, and 13g protein.
Others
Here's one option for the chicken lovers out there:
10. 3-pc Hand-breaded Chicken Tenders
Anything breaded is a no-no on keto. However, these tenders are an exception because they don't contain high amounts of carbohydrates.
Nutrition facts per serving: 260 calories, 9g fats, 5g carbs, and 40g protein.
11. Jalapeño Ranch
The chicken tenders are served with your choice of dipping sauces. However, most of their dipping sauces ate high in sugar.
The only low-carb dipping sauce option you have is Jalapeño Ranch.
Nutrition facts per serving: 110 calories, 11g fats, 2g carbs, and 1g protein.
Drinks
And here's the most exciting part. A&W offers a keto-friendly drink, and it's no other than—
12. A&W Diet Root Beer
Yes, you read that right. A&W Diet Root Beer is keto-friendly!
That's because it doesn't contain sugars. So instead, they used keto-friendly sweeteners to sweeten it.
Nutrition facts per serving: 0 calories, 0g fats, 0g carbs, and 0g protein.
A&W Dishes You Need to Avoid
On the other hand, here are the dishes you should never order if you want to stay on keto:
Chicken
Hand-breaded Chicken Tender Combo (with fries and sauce): 64 to 67g net carbs
Chicken Sliders: 42g net carbs
Sides
Chili Cheese Fries: 51g net carbs
Cheese Curds: 27 to 54g net carbs
Onion Rings: 53g net carbs
Fries: 29 to 61g net carbs
Dipping Sauces
Honey Mustard: 8g net carbs
Sweet & Sour: 14g net carbs
Barbecue: 12g net carbs
Drinks
Famous Floats: 61 to 119g net carbs
Peach and Strawberry Real Fruit Shakes: 80 to 173g net carbs
Classic Shakes (Chocolate, Classic Vanilla, or Real Strawberry): 81 to 193g net carbs
Root Beer Cream Freeze: 68 to 153g net carbs
Signature Soft Serve: 32 to 42g net carbs
Sundaes (Strawberry, Caramel, or Fudge): 54 to 65g net carbs
Shakes (Vanilla, Strawberry, or Chocolate): 81 to 193g net carbs
Polar Swirls (Oreo, M&M's, Reese's, or Chocolate Chip Cookie Dough): 56 to 182g net carbs
The Bottom Line
Honestly, A&W is not the best option for eating out on keto. However, it's good enough if you wish to satisfy your burger and hotdog cravings on keto.
But what it lacks in food items, it more than makes up for beverages. A soda, to be exact.
After all, it's one of the few fast food establishments offering keto-friendly root beer! Thanks to their diet root beer offering, you can now enjoy drinking soda even on a keto diet.
So what are you waiting for? Head to the nearest A&W and enjoy their excellent keto options.