When doing the keto diet, our main focus is to lower or eliminate our carbohydrate consumption. Unfortunately, most of us focus too much on our carb intake to forget about another essential nutrient– fiber. 
Before we know it, our digestive system is already messed up.
Our bowel movement is just less than three times a week.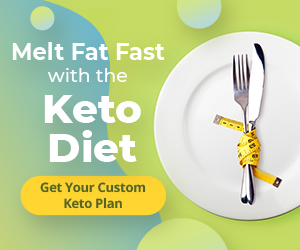 And if we ever move our bowels, it's painful or difficult to do so. That's not all. We feel bloated, and our tummies feel gassy all the time. 
Lucky for us, some supplements can provide your body with the amount of fiber that it needs. However, please be warned that not all fiber supplements are good for you or your diet. (ref. 1)
You see, the majority of the supplements in the market are laden with carbohydrates.
When you take such supplements, you may get enough fiber, but your carbohydrate consumption will skyrocket.
When that happens, you may get kicked out of ketosis, and all your hard work will be put to waste. 
We're here to prevent that from happening.
In this review, we'll share with you the best keto fiber supplement. If you want to get enough fiber without ruining your keto diet, you need to read this review!
Should You Take a Fiber Supplement on Keto?
The keto diet may be effective for weight loss, but we can't deny that it comes with restrictions. With its restrictions come a few nutritional deficiencies. When you cut off all carbohydrate-rich foods in your diet, it will be difficult for you to get the body's much-needed fiber. This is because it's difficult to find high fiber foods with low carbs. 
That's why most keto dieters lack fiber. Unfortunately, this can lead to a wide array of digestive issues, such as constipation, gas, and bloating. Worst, it may even increase your risk of colon cancer. (ref. 2)
With that in mind, your biggest question would be, how do I add fiber to my keto diet?
There's only one solution to that—take the best fiber supplements for ketogenic diet.
But,…
How to Choose the Best Low Carb Fiber Supplements for Keto Diet
Choosing the best fiber supplement for a low carb ketogenic diet is not exactly a walk in the park. Keep in mind that the supplement's content can significantly affect your diet, so you must choose your supplement wisely.
With that in mind, here are some of the things to keep in mind when choosing your fiber supplement.
Type of Fiber
This is the most critical consideration of all. Keep in mind that not all fiber types are created equal. Different types of fiber will have varying effects on your digestive system, so you should make sure that the type of fiber you will take suits your condition.
For example, a soluble fiber type like Psyllium husk powder is recommended if you have digestive problems like constipation or diarrhea.
On the other hand, insoluble types of fiber are beneficial only to people dealing with constipation. It doesn't have any effect on diarrhea.
Other options are the soluble and probiotic type of fiber like Inulin. These are beneficial for your digestive tract's flora, which aids in improving your overall digestion. (ref. 3)
Type of Ingredients
As much as possible, choose a fiber supplement that contains all-natural ingredients.
It must also be free of fillers or any unnecessary ingredients. The ingredients must also be harvested from the natural source as much as possible so you can get nothing but pure fiber from the supplement.
Carb Count
The amount of carbohydrates is the main reason why you should be extra careful when choosing your supplements. This is most especially true since there are plenty of manufacturers that don't consider the carb count.
To stay within your carbohydrate limitations, you must avoid supplements that contain Dextrose and Maltodextrin, as these are not keto-friendly. (ref. 4)
Taste
Honestly, most of the best fiber supplements in the market taste bad. This is most especially true with pills or powdered fiber supplements. As much as possible, check out reviews or ask for people's feedback before buying one.
Dosage Form
Fiber supplements come in two forms—pills and powder.
The supplement's dosage form determines how you take the supplement and can affect your convenience. If it's not convenient for you to take it, you may not be consistent in taking it.
2023's Review of the Best Fiber Supplements on Low Carb, Keto Diet
Best Fiber Pills and Powder Supplement for Low Carb Keto Summary:
Let's take a sneak peek at the differences between the 5 best fiber supplements on keto.
To determine which is the best fiber supplement for your keto diet, we must understand how each supplement works. With that in mind, let's take a closer look at these supplements.
Now is a natural products manufacturer that has been in the industry since 1968.
Their mission is to deliver value in services and products which can empower people to lead healthier lives.
This family-owned and operated company is founded on three core values—charitable giving, sustainability, and quality.
The NOW Supplement Psyllium Husk Fiber is one of the best keto-friendly fiber supplements that you can find in the market today.
The main ingredient of this keto diet supplement is Organic Psyllium Husk (for the powder), and 50 mg Pectin (for tablets), which they claim can provide 6 grams of fiber (soluble). That's already 75% of our daily dietary soluble fiber requirement.
The fiber-rich supplement's main ingredient can swell up to 50 times its size when it mixes with water.
This bulking mechanism helps to facilitate good intestinal function and promote regular bowel movements.
For the convenience of the user, the supplement comes in two forms—capsules and powder.
The recommended dosage for the powder is to mix a tablespoon of it in water. On the other hand, you need to take 2 to 3 capsules twice or thrice a day.
What makes this an excellent keto supplement is it offers high fiber content but is low carb.
According to its label, one tablespoon of the powder contains only 8g of carbohydrates, while 2 capsules have only 1gram of carbohydrates.
Pros
Both the capsules and powder are affordable.
The supplement is made by one of the most reputable companies in the natural supplements industry.
It contains one effective ingredient—no fillers and unwanted substances.
The supplement is soy-free, gluten-free, non-GMO, and keto-friendly.
It's manufactured in a CGMP facility.
Cons
The capsules tend to stick to the throat when swallowed.
The powder clumps when mixed.
Metamucil is one of the most trustworthy supplement providers for over 80 years.
They claim to be the #1 doctor-recommended fiber brand, and we will know why!
Same with Now, the star ingredient of Metamucil is psyllium husk. This is considered to be a natural soluble fiber.
It works by forming a gel when combined with water. The gel effectively traps and removes the wastes in your intestines, making you feel lighter and less bloated.
The recommended dosage for this supplement is 2 to 5 capsules four times a day.
Each serving (5 capsuled) contains 1.8 grams of fiber (soluble) and only 2 grams of carbohydrates, making it an excellent option for people with low fiber intake while on a keto diet.
Besides capsules, you can also find Metamucil supplements in different forms, including powder, packets, and digestives.
According to the company, the supplement can also promote digestive health, facilitate regular bowel movements, control appetite, maintain blood sugar levels, lower cholesterol levels, and reduce heart disease risk. But of course, there's still a disclaimer that this product is not intended to treat, diagnose, prevent, or cure any disease, just like all other supplements.
Pros
According to 291 people, they felt lighter after taking on the Metamucil Two Week Challenge.
This is the #1 doctor-recommended fiber brand.
The company has been in the industry since 1934.
The supplement comes in a convenient-to-take capsule form.
It also comes in different forms for versatility.
Cons
You would need to chug down 20 capsules a day to get the recommended dosage.
The capsule is quite big.
Viva Naturals is an all-around wellness company that develops and manufactures beauty products, essential oils, organic foods, and supplements.
The company claims that all of its products are sustainable, ethical, and ecologically conscious.
The people behind the company firmly believe in the power of healthy living, and they aim to empower you to live your best life through their products.
The Viva Naturals Organic Psyllium Husk Powder was formulated to help people increase their fiber intake. It's an ultra-fine powder made from organic Psyllium Husk. When mixed with powder, it forms a gel that adds bulk to your digestive waste to be flushed out.
Each serving (1 teaspoon) of the powder already gives you 4g of insoluble and soluble fiber.
This already makes up 14% of your daily dietary fiber requirement! You can also get as low as 4g of carbohydrates and 15 calories, making it suitable for a low-carb keto diet.
What makes it different from other psyllium powders is formulated using a unique and careful de-husking method.
The result is a powder with uniform consistency and has a more palatable taste.
Pros
It has a better taste than the other fiber supplements.
The supplement is affordable.
You can mix the powder in shakes and smoothies.
The powder can also be used as a baking ingredient for keto-friendly pastries.
This natural fiber supplement has been third-party tested and certified to be organic and non-GMO.
Cons
It doesn't mix well with smoothies.
The powder gives off a distinct weird smell.
Ancient Nutrition is a company that claims to deliver ancient nutrients in a modern form.
They offer whole food nutritional products that use the ingredients and food items that powered the body and mind and restored our ancestors' health.
The Ancient Nutrition Keto Fiber is the only fiber supplement with the term keto in its name.
In addition to delivering enough fiber to keto dieters, this supplement is also recommended for Paleo low carb diet.
A heaping scoop (17 g) of this powder provides you 5 grams of dietary fiber, contains 7 grams of carbohydrates, and delivers only 40 calories.
The formulation of this fiber supplement is different from the rest because it doesn't contain just one ingredient.
It has a mixture of different high fiber foods with low carb ingredients like chia seeds and flaxseed. It also has MCTs, which is a known supplement for keto dieters.
Pros
The powder is all-natural, low carb, Paleo-friendly, keto-friendly, and non-GMO.
You can try it risk-free for 30 days.
The powder contains many beneficial ingredients.
It's co-formulated by a doctor.
You can mix it into your smoothies, almond milk, and other drinks.
Cons
The amount of each ingredient may not be enough to make a difference.
The powder doesn't taste good, even if you mix it in drinks.
As we mentioned, NOW is one of the leading supplement providers in the industry. That's why they have two candidates for this list.
Same with their first product, this one also comes in powder form. However, the supplements have different active ingredients. This one contains organic Acacia Gum, a type of soluble fiber, so it works the same as Psyllium Husk.
The ingredient was harvested from the Acacia Tree sap, abundant only in India, Pakistan, and Africa. Acacia is also considered to be a probiotic.
In addition to being a bulking agent, it also stimulates the beneficial bacteria's growth in our intestine, helps with digestion, and promotes good digestive health.
To take this dietary keto supplement, you only need to mix 1 tablespoon of powder in a water glass and drink once daily. This single-serving already contains 6 grams of fiber and 6 grams of carbohydrates.
If you're sensitive to fiber, it's recommended that you start with only 1 teaspoon a day. Start increasing your dose to a tablespoon a day once you've already adjusted to it.
Pros
Acacia is well tolerated by most people.
It has a NPA A-rated GMP certification, which means that all of its manufacturing processes have been tested, examined, and passed the standards.
You don't have to drink this many times in a day.
The manufacturer has been in operation since 1968.
The powder is highly soluble and mixes easily with water, yogurt, coffee, and other drinks.
Cons
The powder's color varies.
It also has a sour smell and taste.
So, What is the Best Fiber Supplement for Keto Dieters?
For us, the best fiber supplement for keto diet is no other than the NOW Acacia Fiber Powder. 
Why is this so?
While it seems like almost all of these supplements for keto work the same way, the active ingredient of NOW Acacia works differently.
In fact, it works in two ways. One, it bulks up your waste, which is the same thing other supplements do. But in addition to that, it also promotes the growth of beneficial bacteria, which is great for our digestion. Additionally, it's affordable and contains a good amount of fiber in each dose.
In addition to fiber supplements, there are other types of supplements that you will need to get adequate nutritional support while on your keto diet. To determine what these are, please check out our buying guide.