Who said healthy dinners can't also be satisfying and delicious? Well, we're here to prove that belief wrong! Try these high-protein, low-carb dinner recipes and taste for yourself.
Table of Nutritional Breakdown
| Recipe Name | Protein (g) | Carbs (g) |
| --- | --- | --- |
| Hibachi Steak and Shrimp | 59 | 1 |
| Butter Chicken Meatballs | 18 | 7 |
| Cauliflower Fried Rice | 8 | 7 |
| Grilled Pork Chops with Asparagus Pesto | 25 | 4 |
| Beef Cheeseburger Pie | 25 | 3 |
| Salmon and Broccoli | 46 | 10 |
| Keto Cajun Jambalaya | 29 | 9 |
| Low-carb Beef Pho | 23 | 7.8 |
| Baked Southwestern Tofu Steaks | 9.3 | 4.3 |
| Turkey Taco Lettuce Wraps | 23 | 7 |
| Spinach-stuffed Chicken | 41 | 3 |
Did you know that a high-protein dinner helps stop you from reaching for a midnight snack? Yep! Eating a protein-rich dinner keeps you full longer while limiting your carb intake regulates blood sugar levels. (*)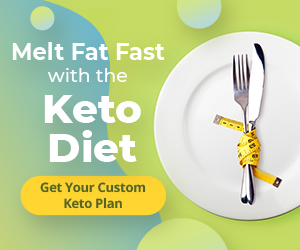 Plus, consuming low-carb, high-protein meals also preserves your body's muscle composition.
Not only that, it even promotes weight loss and lowers your risks of diabetes and heart disease. (*)
That's a triple win!
So, if you're on a mission to shed a few pounds, bulk up, or eat better, we've got your back!
You might think that going keto or starting a high-protein, low-carb diet limits your food choices. But guess what? It doesn't have to!
We understand the post-work and post-school dinner dilemma when maintaining this lifestyle. That's why we've curated a list of the best high-protein, low-carb dinner recipes for you!
These dinner ideas are not only delicious and nutritious, but we made sure that they are also:
low-carb and high in protein,
fuss-free to make,
extremely satisfying,
meal-prep friendly, and
bursting with flavor!
Go ahead, put on your cooking hat, and journey to a culinary world of these fantastic high-protein, low-carb dinner recipes!
What Makes Up an Excellent High-protein Low-carb Dinner?
Before we jump right into the list, here's a quick overview of the standards we set in choosing these dinner recipes. Of course, we want to give you various options without getting off track with your fitness goals. This is why we went for recipes that:
Contain 10 grams or less of carbohydrates per serving.
Use easy-to-find and good-quality protein sources to keep you satisfied for longer.
10 High-Protein, Low-carb Dinner Recipes
Let's get onto this list of our carefully chosen high-protein, low-carb dinner recipes that will thrill your taste buds and keep your tummy full!
1. Hibachi Steak and Shrimp- A Perfect Date Night Dinner
Picture this: a candlelit dinner. Perfectly seasoned New York strip chunks with succulent shrimp. Both with just the right amount of char from the grill and veggies on the side.
Romantic, isn't it? Whether for a planned date night or an unexpected intimate celebration with your partner (or by yourself), we can guarantee that this meal will fit the bill!
The best part? The recipe is simple enough to whip up on any night of the week yet always satisfies.
With the amount of protein you get and the feast's indulgent feel, this dish is definitely worth firing up the grill for!
Per serving: 560 calories, 32g fats, 59g protein, and 1g net carbs.
Editor's Tip: Cook this in a non-stick wok to achieve that perfect glaze. (*)
Learn more: https://bakeitwithlove.com/hibachi-steak-and-shrimp/
2. Butter Chicken Meatballs- Spice Up Your Dinner
Made for busy nights when you'd rather have something quick before heading to bed, this recipe has been a lifesaver for us multiple times!
Rich, hearty, fragrant, and packed with flavor, this is definitely a healthier takeout substitute for the whole family.
It is a low-carb, low-calorie, and dairy-free version of a classic Indian favorite.
Here's the best part: it's perfect for meal prepping during the weekend, so you can enjoy it anytime during the week with minimal effort.
Per serving: 257 calories, 18g fats, 18g protein, and 7g net carbs.
Editor's Tip: Invest in a meatball maker to quickly, easily, and conveniently create the balls. (*)
Learn more: https://www.bonappeteach.com/low-carb-butter-chicken-meatballs/
3. Cauliflower Fried Rice- Chinese Takeout Style
A cup of cauliflower contains less than half the carbs in white rice, is only about 47 calories, and provides great macros, too! (*)
This cauliflower fried rice recipe is impressively versatile. It's packed with vitamins and fiber from various vegetables and works perfectly with any protein source you desire.
It's a breeze to put together and only takes half an hour from chopping to digging in!
Per serving: 99 calories, 4g fats, 8g protein, and 7g net carbs.
Editor's Tip: Want an even quicker meal? Prep the veggies using a vegetable chopper, or buy them pre-chopped! (*)
Learn more: https://greenhealthycooking.com/cauliflower-fried-rice/
4. Grilled Pork Chops With Asparagus Pesto– Perfect for Weeknights
Don't let the fancy name hold you back. This dish is easier to make than you think!
All you need to do is season the chops, throw them on the grill, and prep your veggies on the side while those cook.
Top it off with the fresh and herby pesto, and you've got a wholesome and yummy dinner.
With no carbs or dairy, you don't have to worry about any bloating or discomfort (*).
There's no doubt about it. This gluten-free and paleo-friendly dish will leave you content and feeling good!
Per serving: 332 calories, 24g fats, 25g protein, and 4g net carbs.
Learn more: https://skinnyms.com/grilled-pork-chops-with-asparagus-and-pesto-recipe/
5. Beef Cheeseburger Pie- Your Low-carb Fastfood Fix
Craving for cheeseburgers but currently on a keto journey? We totally get that! That's why we included this cheeseburger pie without the carb-heavy buns.
This is a stress-free, protein-packed, and budget-friendly alternative to your fast food fave. It will surely be a hit for the whole family.
The crustless gluten-free and nut-free version fits a range of diet types, including those with allergies.
It uses simple ingredients you may already have in your fridge. The best part is it takes minimal preparation and cleanup, as well!
Per serving: 383 calories, 30g fats, 25g protein, and 3g net carbs.
Pro Tip: make a whole batch at a time, stick it in the fridge, and just reheat it anytime!
Learn more: https://www.primaledgehealth.com/easy-cheeseburger-pie/
6. Salmon and Broccoli- Your Dose of Fiber and Omega 3's
This recipe uses salmon, which is one of the top 10 protein sources for keto (*). One fillet contains about 26 grams of protein and 11.8 grams of healthy fats.
But wait, there's more. It also has broccoli, which is a high-protein, low-carb, and fiber-rich superfood. (*)
Thanks to these ingredients, you can get a spectrum of nutritional benefits from just one meal!
But that's not even the best part. We love this recipe because it uses basic ingredients and just a single sheet pan. So it's perfect for a night of entertaining guests or when you're crunched for time.
Per serving: 446 calories, 25g fats, 46g protein, and 10g net carbs.
Editor's Tip: You can switch up the fish or veggies for variety. We highly recommend going for cauliflower to maximize its filling power. 
Learn more: https://juliasalbum.com/fish-broccoli-recipe/
7. Keto Cajun Jambalaya- Of Proteins and Flavors
Why choose a dish with only one protein source when you have this cajun jambalaya recipe?
It has three high-quality protein sources: sausage, chicken, and shrimp.
Another great thing is it has veggies, so you get to enjoy your dose of fiber too! With all these different ingredients, you can enjoy an orchestra of flavors and textures.
The best part is that it all comes together in just one pot, which can also double as your serving tray.
Hurray for quick and minimal cleanups!
Per serving: 401 calories, 27g fats, 29g protein, and 9g net carbs.
Pro Tip: To stay within the low-carb theme, serve over a bed of warm cauliflower rice or a side of collard greens or okra!
Editor's Tip: Cook it in an Instant Pot for a hassle-free cooking experience. (*)
Learn more: https://deliciouslittlebites.com/keto-cajun-jambalaya/
8. Low-carb Beef Pho- A Comforting Soup, Pho Sure
Feeling down or under the weather? That calls for a steaming bowl of noodle soup.
We also used to be so bummed that noodles aren't keto-friendly. But don't worry, we can use zucchini noodles instead!
Zucchini noodles are a low-calorie, low-carb, fiber-and-vitamin-rich substitute for traditional noodles. (*)
Also, zoodles are already tender, so there's no need to pre-cook them before adding the broth. What a timesaver, right?
This low-carb beef pho is an exciting twist and shortcut to classic Vietnamese comfort food. It boasts of the soup's original flavors but without the carbs and guilt!
Per serving: 218 calories, 5.3g fats, 23g protein, and 7.8g net carbs.
Editor's Tip: Go for shirataki noodles for a quicker and easier if you want that classic noodle texture without the carbs. (*)
Learn more: https://www.wholesomeyum.com/low-carb-keto-pho-recipe/
9. Baked Southwestern Tofu Steaks- A Meatless Delight
We know some of you are still tofu skeptics (we were, too!). We used to think that tofu was bland and boring, but these tofu steaks definitely changed our minds.
Thanks to tofu's neutral flavor, it soaked up all the marinades and sauces and gave off mouthwatering Southwestern flavors we can't get enough of.
To balance the heat and flavor, the steaks also come with a creamy lime dressing. It adds a zesty twist to the steaks' smoky flavor.
Aside from the taste, this recipe is one of the most nutritionally dense protein sources. (*)
Delicious and nutritious, what else can you ask for?
Per serving: 184 calories, 15.3g fats, 9.3g protein, and 4.3g net carbs.
Pro Tip: Top them on a bowl of veggies to get added fiber and enjoy a full, hearty meal.
Editor's Tip: Use a tofu press to drain the excess moisture from the tofu blocks. (*)
Learn more: https://pickledplum.com/southwestern-style-baked-tofu-steaks/
10. Turkey Taco Lettuce Wraps- Light and Easy
We love Taco Tuesdays (or any day), so imagine our excitement upon discovering this turkey taco wrap recipe.
Unlike the greasy tacos from a truck or fast food chain, this meal is light, crisp, and fresh but just as flavorful and protein-packed.
That's because it uses ground turkey, which is leaner and more iron-rich meat than chicken. (*)
As if that's not enough, the medley of toppings gives the dish a pop of color and a boost of extra fiber and nutrients.
Per serving: 239 calories, 13g fats, 23g protein, and 7g net carbs.
Editor's Tip: Use Thanksgiving leftovers for this recipe to give it a Holiday touch. 
Learn more: https://www.cookingclassy.com/turkey-taco-lettuce-wraps/
11. Spinach-stuffed Chicken- Viral Flavors in One Meal
Have you ever tried the trending creamy spinach pizza? We know it sounds so good, but it is also packed with carbs and calories!
Luckily, the craze led us to this recipe, which definitely did not disappoint. It delivers the same fiber-rich benefit and cheesy flavor but in a keto-friendly way.
This recipe uses a filling of parmesan, cream cheese, and spinach. It is then stuffed into chicken breasts and popped into the oven to cook. Easy breezy lemon peasy indeed!
The resulting meal will satisfy your craving for that rich, smooth mouthfeel. It's also loaded with creamy and juicy textures and cheesy and savory flavors.
Per serving: 407 calories, 24g fats, 41g protein, and 3g net carbs.
Pro Tip: This is a great way to have picky eaters eat their greens and get their protein fix in one meal!
Learn more: https://thatlowcarblife.com/spinach-stuffed-chicken-2/.
Learn more: Low carb High protein Desserts | Delicious and Healthy Recipes