Are you worried you're not getting enough protein in your vegan diet? Good news: we're here to help you achieve your daily macro needs with these high-protein low-carb vegan meals.
What's the toughest part of being a vegan? It's waking up at 5 AM to milk the almonds!
Kidding aside, getting enough proteins is the hardest part of going vegan.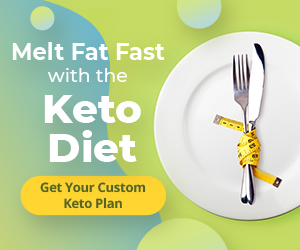 Think about it. The diet excludes meat, poultry, fish, seafood, eggs, or dairy, some of the best sources of complete proteins. (*)
But wait, aren't there lots of plant-based protein sources?
That's true. You can also get proteins from legumes, peas, and grains.
But here's the deal: Most plant-based protein sources are high in carbs and not keto-friendly.
Not only that, but they are also incomplete protein sources, so they may not provide you with all the essential amino acids that your body needs. (*)
But wait, it's not yet the end of the world (or your diet).
Getting enough proteins on a vegan keto diet is challenging but not impossible, but relax, we've guac this.
Surprise! We've created this list of the best high-protein, low-carb vegan meals that can give you the needed proteins without getting kicked out of ketosis.
In this list, you'll find recipes that contain:
At least 25-30 grams of protein per serving (*),
30 – 50 grams of carbohydrates per serving (for a low-carb diet) (*),
or less than 10g of carbohydrates per serving for the keto diet.
Check out our list of high-protein, low-carb vegan meals proving that being vegan IS NOT a big missed steak!
14 Delicious High-Protein, Low-Carb Vegan Meals for Healthy & Satisfying Dining
We know looking for yummy meals that meet your macro and dietary needs takes a lot of work, so here are some of our favorite recipes that suit your vegan and low-carb needs.
Table High-Protein Low-Carb Vegan Meals Quick View
| Recipe Name | Protein (per serving) | Carbs (per serving) |
| --- | --- | --- |
| Creamy Matcha Smoothie Bowl | 24g | 41g net |
| Vegan Holiday Roast | 30.8g | 20.6g net |
| Smoky Tempeh Stuffed Acorn Squash | 28g | 41g net |
| Keto Zucchini Pizza Crust | 4.3g | 2.6g net |
| Chickpea Piccata | 29g | 26g net |
| Jacked-Up Vegan Ribs | 35g | 32g net |
1. Nutrient-Packed Creamy Matcha Smoothie Bowl: A Vibrant Vegan Breakfast
There's no better way to start your day than this vegan matcha smoothie bowl. That's because it's not just pretty but also highly nutritious, as it's packed with protein and fiber.
Plus, matcha is rich in antioxidants and offers multiple health benefits (*).
Why we love it:
Light and refreshing
Sweet and creamy without the processed sugars
Can be customized with various fruits and toppings of your choice
It's like eating ice cream but better
Per serving: 261 calories, 4 g fat, 24 g protein, and 41 g net carbs
Pro Tip: Add more protein and healthy fats by topping with your favorite nuts and seeds.
Editor's Tip: Use ceremonial grade matcha (*) for the best flavor and maximum health benefits.
Get Recipe Here: https://runningonrealfood.com/
2. Savory Vegan Holiday Roast: Perfect Plant-Based Alternative for Thanksgiving
Going vegan doesn't mean you get left out of the festivities. That's especially true since you have this vegan roast that delivers delicious Fall flavors that can rival any Thanksgiving Turkey recipe.
It's so delicious that even meat eaters would love this. Bonus: you won't have to deal with feathers, skin, and bones.
What we love about it:
Flavorful and low in fat
Pairs well with veggies and other holiday sides
Takes only about an hour to make
No need for exceptional cooking skills
Per serving: 232 calories, 2.7 g fat, 30.8g protein, and 20.6g net carbs
Editor's Tip: Use a high-power food processor (*) to make prep easier. 
Get Recipe Here: https://shaneandsimple.com/
3. Hearty Smoky Tempeh Stuffed Acorn Squash: A Fall Flavor Feast
This is another center-piece-qualified high-protein, low-carb vegan meal. It does not only take advantage of seasonal fall produce but also lets you indulge in comforting flavors without bending the rules of veganism.
What to love about it:
Hearty and savory
High in fiber, vitamin A and vitamin C (*)
Can made ahead before the holiday rush
Lasts about three days or so in the fridge
Per serving: 372 calories, 13 g fat, 28 g protein, and 41 g net carbs
Editor's Tip: A little of this vegan liquid smoke (*) goes a long way, so please use it sparingly. 
Get Recipe Here: https://sinfulnutrition.com/
4. Low-Carb Keto Zucchini Pizza Crust: Satisfy Your Pizza Cravings Guilt-Free
Who knew zucchinis could be used for pizza crust? Definitely not us before we found this recipe. But now that we do, we couldn't get enough.
If you're craving pizza, this meal hits the spot without the extra carbs, fat, and calories. The best part is you can easily customize it by switching up the toppings.
What we love about it: 
Low calorie but high in protein
Gluten-free and keto-friendly
No bloating from eating dairy and carbs
Great for making ahead
Freezes well for up to 2 months
Per serving: 110 calories, 8.7 g fat, 4.3 g protein, and 2.6 g net carbs
Pro Tip: One slice makes one serving. So, you can definitely eat multiple pieces.
Editor's Tip: Use an electric coffee or spice grinder for a smoother blend of the sunflower seeds and psyllium husk if needed (*).
Get Recipe Here: https://elavegan.com/keto-zucchini-pizza-crust/#recipe
5. Classic with a Twist: Chickpea Piccata – A Vegan Take on Italian Cuisine
Picatta is a dish usually made by pounding meat and cooking it with a sauce of lemon, butter, and capers (*). This recipe is a vegan version of the classic dish, and it uses chickpeas, which can mimic the chewiness and color of chicken or turkey.
We love it almost just as much as the real thing.
What makes it so good:
Dairy-free and low-fat
Surprisingly "meaty"
Great as a weeknight dinner or a main dish for special occasions
Has the right amount of chew and bite
Per serving: 320 calories, 11 g fat, 29 g protein, and 26 g net carbs
Get Recipe Here: https://www.godairyfree.org/
6. Flavorful Jacked-Up Vegan Ribs: The Ultimate Family-Friendly Feast
Since we tried this high-protein, low-carb vegan meal, we've been making it every chance we get.
The main ingredient is seitan, which has the same texture as chicken. But what made it extraordinary is the addition of jackfruit, which keeps the "ribs" moist and gives them that tender pull-apart texture.
Whether for a game night or a weekend barbecue, this dish will satisfy everyone.
What we like about it:
The best close-to-real-meat texture if you get it right
Fat-free and can be low sodium depending on the sauce
Tickles the taste buds of both adults and kids
Simple and easy to make
One preparation can serve the whole family
Per serving: 298 calories, 2 g fat, 35 g protein, and 32 g net carbs
Pro Tip: Ensure you use unripe green jackfruit in brine, not the ripe or sweetened kind. 
Get Recipe Here: https://blog.fatfreevegan.com/
7. Exotic Mongolian Seitan Vegan Beef: A Fusion Delight with a Plant-Based Spin
If you love Mongolian beef, you will be delighted by this vegan version.
The name sounds fancy, but it's a quick and easy recipe requiring only two simple steps.
First, pan-fry the seitan until browned. After that, toss it in the fantastic sweet and savory Asian-style sauce. That's it!
What to love about it:
Almost looks like real beef
Saucy and meaty
No refined sugars
Nut-free, so safe for those with allergies and sensitivities
You can cook veggies in the same pan
Per serving: 324 calories, 3 g fat, 29 g protein, and 33 g net carbs
Get Recipe Here: https://yupitsvegan.com/mongolian-seitan-vegan-beef/#wprm-recipe-container-7373 
8. Warm and Comforting Chili Sin Carne: Your Vegan Weekend Indulgence
With this meal, you can enjoy chili con carne's comforting taste and high protein content but without the carne.
Because of its warming and cozy flavors, it's our ultimate comfort food during those cold winter evenings.
What we love about it:
Easy breezy cleanup (everything cooks in one pot)
Perfect for batch cooking, meal-prepping and freezing
Filling and comforting
Pairs well with rice or other grains but is also good on its own
Different textures to enjoy
Per serving: 412 calories, 17 g fat, 27 g protein, and 37 g net carbs
Pro Tip: Look for a gluten-free brand of soy mince to make this meal gluten-free. 
Get Recipe Here: https://wallflowerkitchen.com/easy-vegan-chilli-con-carne/ 
9. Chinese-Inspired Broccoli Tofu Stir Fry: A Healthy Alternative to Takeout
This is the recipe to try if you need a quick but flavorful and well-rounded meal.
It uses only a few basic ingredients, but the sauce gives it an elevated taste. You can stir fry almost any protein and veggie combo in that liquid gold, and we're sure it will still taste amazing.
What we love about it: 
Pairs well with rice or noodles (even zoodles to keep it low-carb)
Different layers of texture and flavor from the tofu, broccoli, and sauce
Mushrooms add an earthy and deeper umami flare
Per serving: 408 calories, 22 g fat, 27 g protein, and 33 g net carbs
Pro Tip: You can substitute coconut aminos instead of soy sauce to make the dish gluten-free. 
Get Recipe Here: https://www.veganblueberry.com/
10. Spicy and Hearty Vegan Jambalaya: A Bold Twist on a Southern Classic
Whether entertaining surprise guests or trying to feed the whole family, a jambalaya pot could save the day.
This meal is bursting with the flavor of vegan sausage and aromatics and oozing with the fragrance of herbs and spices.
What to love about this dish:
Nut-free and gluten-free
Keeps well in the fridge for 3-4 days or the freezer for up to 4 months
Great for meal-prepping
The recipe makes six servings
Can be eaten alone or with rice and other sides
Per serving: 406 calories, 15 g fat, 26 g protein, and 41 g net carbs
Pro Tip: This dish is best served with cornbread, but feel free to skip that if you want to keep it low-carb. 
Get Recipe Here: https://www.veggieinspired.com/
11. High-Protein Vegan Steak: Indulge in a Meatless Marvel
When it comes to protein content, steak is king.
News flash: there's a vegan version for that, too. This vegan steak uses wheat gluten or seitan to give it a "meaty" texture.
What we love about it:
Can be easily elevated with a mushroom sauce or vegan gravy
Each serving of this vegan steak serves a whopping 58 grams of protein
Low-fat
Great on its own, served with potatoes, or mixed in a salad
Per serving: 402 calories, 2.7 g fat, 58 g protein, and 34.8 g net carbs
Get Recipe Here: https://lovingitvegan.com/vegan-steak/#recipe 
12. Superfood Delight: Mushroom Hemp Patties Packed with Plant Protein
Hemp seeds are such an underrated vegan protein source. Why, you might ask?
Well, these seeds are not only rich in essential fatty acids, but they also pack a harder protein punch than the more famous chia or flax seeds. (*)
Combined with mushrooms, you get a meaty and earthy taste like no other vegan proteins.
What we love about it:
Great for batch-cooking and meal preps
Can be eaten in various creative ways
Rich in fiber
Amazing texture and taste
Per serving: 449 calories, 33 g fat, 26 g protein, and 10 g net carbs
Pro Tip: Add the hemp protein powder gradually to ensure your patties don't dry up.
Get Recipe Here: http://gourmandelle.com/
13. Zesty Spicy Vegan Salami: A Perfect Blend of Heat and Flavor
With its smoky and flavorful taste and meaty bite, it's sometimes hard to believe this salami is vegan.
Although this takes a bit of elbow grease to make, the resulting dish is worth it. We love including these in our movie night or game night snacks.
What to like about this recipe:
Slices well
Can be used for sandwiches, wraps, as a pizza topping, or in a vegan charcuterie board
Stores well in the fridge or freezer
Per serving: 222 calories, 6 g fat, 32 g protein, and 12 g net carbs
Editor's Tip: Knead your dough very well to get the perfect texture. You can use a stand mixer with a paddle attachment to complete this job easier (*).
Get Recipe Here: https://thishealthykitchen.com/
14. Versatile Herbed Tempeh Meatballs: A Vegan Take on a Classic Favorite
These "meatballs" are packed with spices and protein, making them a constant fixture in our monthly menus.
It goes well with a wide range of sauces, so they are versatile enough to be eaten as a main, a pasta topping, or a sandwich.
Really, your imagination is the limit for these meatballs.
What you would enjoy:
A hit with kids and adults alike, vegan or not
Meal-prep and freezer-friendly
Great as packed lunch for school, work, or picnics
Per serving: 446 calories, 28 g fat, 25 g protein, and 9.8 g net carbs
Pro Tip: If cooking for the family, hold back on the chili flakes to make this dish more kid-friendly.
Editor's Tip: We love to portion and store these meatballs in reusable freezer bags for quick and easy meals(*). 
Get Recipe Here: https://kneadtocook.com/
Conclusion: Your Gateway to Delicious, Nutrient-Rich Vegan Eating
In conclusion, embarking on a vegan journey doesn't mean compromising on taste or nutritional value, especially when it comes to protein intake.
Our diverse list of 14 high-protein, low-carb vegan meals showcases the vast possibilities of plant-based cooking.
From the creamy indulgence of a Matcha Smoothie Bowl to the hearty satisfaction of Tempeh Meatballs, each recipe is a testament to the flavorful and nutritious options available in the vegan diet.
Whether you're a seasoned vegan or just exploring this lifestyle, these recipes are designed to meet your dietary needs without sacrificing flavor or variety.
Remember, being vegan isn't about restricting your diet – it's about expanding it in new, exciting, and delicious directions.
So, go ahead and try these recipes, experiment with flavors, and enjoy the journey of discovery in the world of high-protein, low-carb vegan cuisine.
Here's to meals that not only make you ha-pea but also keep you healthy and delighted!