Did you know that all your stomach issues and ketogenic flu symptoms can all be fixed just by taking a supplement?
We wish, right?
We are actually gonna make this statement.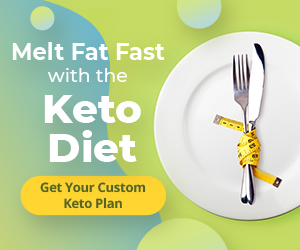 "There's actually one supplement that claims to deliver all of these benefits—the Keto Credible Keto Greens Powder."
This powder has captured the attention of a lot of ketogenic dieters because of its 3-in-1 formulation.
The supplements can have the benefits of electrolytes, greens powder, and exogenous ketones in an easy-to-drink powder!
But how much of these claims are true? And what other important information are the manufacturers not telling us?
If you want to know the real deal about this so called "magic pill", read our full review!
Click Here to Skip Down to the Reviews
What is Keto Credible Keto Greens?
With Keto Credible Keto Greens, you can get to enjoy 3 supplements just by taking and buying one all-natural nutritional powder.
This is because this ketogenic diet supplement contains 17 kinds of digestive enzymes, 23 different greens and superfoods, and 3 types of exogenous ketones.
Not only that!
This keto diet supplement claims to boost energy, enhance clarity, burn fats, and help your body reach ketosis faster. By taking this supplement, you'll get all the minerals, vitamins, and other micro-nutrients that you would commonly get from certain vegetables for your keto diet.
We know it sounds too good to be true so let us tell you more about this brand.
The Story Behind the Keto Credible Keto Greens
Keto Credible is a company who love their greens, like literally all green stuff.
They are on the mission to help as many people as possible to harness and enjoy the power of ketones.
They do this by formulating and producing quality supplements using natural ingredients to help you on your keto journey.
The company will also provide you with the information you need to make the most out of these supplements.
Irina Litchfield and Justin Litchfield, the founders of Keto Credible, are equipped with the experience and knowledge needed to create supplements that can help other people enjoy their keto journey.
Both of them have long years of experience doing the keto diet, and that's why they already know the ins and outs of the diet and what they need to make the most out of it.
Justin is an organic chemistry and neurobiology graduate from Stanford and has been on a ketogenic diet since 2015.
On the other hand, Irina graduated with a degree in behavioral psychology in USSR.
She struggled with maintaining healthy weight until she tried the ketogenic diet— the diet which changed her life.
What is the Keto Credible Keto Greens Ingredients?
What makes up the Keto Credible Keto Greens Powder? Here they are:
Raw & Organic Greens Juice Blend
This blend comprises the popular greens ingredient like barley grass juice powder, wheatgrass juice powder, Kamut grass juice powder, oat grass, and alfalfa juice powder.
These greens powder may improve overall health, boost immune function, and reduce the risk of inflammation. (1)
Optimal Keto BHB Blend
This trademark blend is made up of Calcium BHBs, Sodium BHBs, Magnesium BHBs, and Potassium Citrate BHBs.
These exogenous ketones are collectively known as BHB salts.
The reasons why these are highly recommended keto products because it provides an instant energy source in the ketogenic diet.
The use of these products can also aid in increasing BHB blood levels to induce ketosis. (2)
Enzyme Blend
As mentioned, the Keto Credible Keto Greens Powder contains good amounts of enzymes, including Lipase, Lactase, Cellulase, and Bromelain.
These enzymes work together to improve digestion, and help the body to process nutrients a lot better.
Whole Food Derived Fruit and Vegetable Nutrient Extract Blend
This blend is made up of carrots, beet, pumpkin seed, sweet potatoes, organic spinach, watercress, and many more.
On the other hand, the fruit extracts came from blueberry, strawberry, apricot, apple, mushroom, cherry, etc.
Through these extracts, your body can get the micronutrients that it needs.
What are the Potential Benefits of Keto Credible Keto Greens?
Why would you need this keto supplement in your regimen? What benefits can you get from it? Below are some of the supposed benefits that you can enjoy when taking the Keto Credible Keto Greens Powder:
Better Digestive System
One of the best highlights of this powder is it's packed with 18 digestive enzymes.
These are specifically chosen to help your body properly digest different micronutrients and food items like carbs, fats, proteins, and dairy.
These enzymes may help in addressing the digestive issues that are associated with the ketogenic diet. (3)
Improved Nutritional Absorption
Another benefit of the digestive enzymes is it helps promote the absorption of nutrients.
With better absorption, nutritional deficiencies can be prevented or, at the very least, minimized.
Replenished Electrolyte Levels
In addition to digestive enzymes and greens, the powder also contains magnesium, calcium, and sodium salts, improving the powder's taste.
But more than that, these can also replenish lost electrolytes during the keto-adaptation phase of your diet.
This prevents you from being dehydrated and experiencing some of the unwanted side effects of electrolyte imbalance.
Less Severe Keto Flu Symptoms
Let's face it.
Keto flu symptoms are a normal part of the keto journey.
While there's nothing that we can do to avoid it, the least we can do is minimize the symptoms.
The powder's digestive enzyme content can help in reducing the severity of digestive symptoms.
On the other hand, the powder's electrolyte content may help with the headaches, muscle cramps, and low energy levels that
Reach Ketosis Faster
Since the supplement also contains exogenous ketones, this can help your body to achieve ketosis faster.
In this way, you get to enjoy ketosis benefits earlier and reduce the length of time that you will experience keto flu symptoms. (4)
Pros
Perfect for On-the-go Lifestyle
Since the keto diet supplement is in powder form, you can easily mix it with water and other types of drinks.
Because of this, you can bring your supplement with you to the gym or wherever you will go.
100% Natural
The powder's ingredients and content were sourced from a blend of 13 whole foods like vegetables and fruits.
It also doesn't contain synthetic vitamins.
Keto-Friendly formulation
The powder doesn't contain caffeine and sugar. The best news is it also has 1 gram of carbs!
Great Flavor
Even though the keto supplement doesn't have sugar or other artificial flavors, it has apples and cinnamon flavors that many users love.
Safe and Healthy Formulation
The supplement is vegan, gluten-free, and dairy-free. It's also non GMOs.
Guarantee
The purchase of this keto diet supplement comes with a 60-day moneyback guarantee.
Cons
Incomplete Dosage Strength Information
The ingredients are listed as blends, so we can't determine how much each ingredient the supplement contains per serving.
It's expensive.
Keto Credible Keto Greens User Reviews:
Below are some of the reviews provided by previous Keto Credible Keto Greens users:
"
"First of all, I like the taste. There are only a few greens powder that tastes amazing like this one, so that's a plus point. Second, I have already seen a big difference in weight loss before and after taking this supplement. Third, it's so easy to prepare and mix on almost all types of drinks. Because of such convenience, it's easy to take this supplement consistently. I've stocked up on this, and I highly recommend that you do too!"
Gabrielle Rose
"
"I'm impressed with this keto diet supplement! Before, I always lack energy and feel tired all the time. After taking the Keto Credible Keto Greens Powder, I can easily and intensely focus on my tasks at hand. I also felt more energy even if I'm on the keto diet!"
Ruth Watkins
"
Overall, this is a good product. However, I have a few complaints. The powder is difficult to mix with water. No matter how long I mix it, and regardless of the temperature of the water I use, it will still have some grittiness to it
Susan Dawson
Keto Credible Keto Greens Vs. Green Surge Superfood Powder
To determine whether this greens powder is the right option for you or not, it's a must that you compare it with some of the other competitors in the market.
Since the Green Surge Superfood Powder is one of the most popular options in the market, we decided to compare Keto Credible to it, and this is what we discovered:
| Brands | Ingredients | No. of servings | Price |
| --- | --- | --- | --- |
| Keto Credible Keto Greens Powder | Raw and Organic Green Juice Blend, Optimal Keto BHB Blend, Enzyme Blend, and Fruit and Vegetables Extract | 20 | $$ |
| Green Surge Superfood Powder | Probiotic and Inulin Blend, Spinach, Spirulina, Spinach Leaf, Wheatgrass, Barley Grass, Apple, Parsley Leaf, Broccoli, Carrot, Pineapple, Raspberry, Digestive Enzyme Blend, Green Tea Leaf, Stevia Leaf, and Grape Seed Extract | 30 | $$ |
As you may have noticed, the Keto Credible Keto Greens Powder contains plenty of substances. After all, it's marketed as a 3-in-1 keto supplement since it includes greens, BHB salts, and electrolytes.
While having a supplement that can perform all 3 functions, it's difficult for the user to determine how much of each ingredient they're getting since all the ingredients are labeled and referred to as a blend.
Because of this, it will be hard for you to know if you're getting enough amounts needed to make a difference.
On the other hand, the Green Surge Superfood Powder contains plenty of greens, fruits, and vegetable extracts and an enzyme and probiotics blend.
The good thing about this is the amount of each ingredient is listed individually, so you're sure that you're receiving the right amounts of each ingredient.
Additionally, both products are almost in the same price range.
However, the Keto Credible Keto Greens Powder yields only 20 servings while the Green Surge Greens Powder contains up to 30 servings.
With this, we can say that the latter is more affordable than the other.
Frequently Asked Questions and Tips
If you still can't decide whether this is the right exogenous ketones and greens powder supplement for you, here are some of the most critical information you may want to know about the supplement.
What are the potential side effects of this supplement?
As of now, there's no news about what the potential side effects of this supplement are. The only complaint that we've come across is that it may cause constipation.
This is entirely expected since any change in your diet may lead to stomach issues.
When's the best time to take it?
The best time to take the supplement is either in the morning or at night before you sleep.
How to prepare the Keto Credible Keto Greens Powder?
Mix one scoop or 11.4 grams of the powder in a glass of water, juice, smoothies—or whatever your preferred drink is.
How much of the ingredients can you get per serving of the supplement?
For each serving, you can get 3.1 grams of Greens blend, 6.25 grams of the Optimal Keto BHB Blend, 100 grams of the enzyme blend, and 245 mg of fruit and vegetable nutrient extract blend.
How often should you take it?
The recommendation is to drink it twice per day.
How many servings does one container have?
The serving size is 1 scoop, which contains 11.4 grams of the powder. Since the jar contains 228 grams, one container can give you 20 servings.
How long can you use the contents of one container?
If you follow the recommendation of taking 2 servings daily, you can use the contents of one jar for up to 10 days.
Is the Keto Credible Keto Greens the Right Supplement for You?
There's no denying that the Keto Credible Keto Greens is one of the multipurpose supplements you can find in the market.
But when it comes to supplements, the more isn't always the merrier.
Instead of quantity, we should focus more on the quality of the ingredients, and we need to make sure that we are getting them in the right dosage to experience its benefits.
Sadly though, this is not the case for Keto Credible Keto Greens.
If you're looking for a keto greens powder that will give you the nutrients you need, we recommend checking out the Green Surge Greens Powder.