Quick, healthy, and delicious—these words best describe these low-carb salad recipes for weight loss that we're about to share with you!
We tried to think of a great salad pun. Unfortunately, we ended up tossing and turning the whole night instead.
Mission accomplished!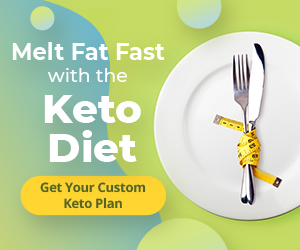 We wanted to start this article on a funny note because we know how difficult it is to lose weight. Been there, done that.
In our journey to lose weight, we've tried every diet imaginable—including the sad salad diet.
You know what we're talking about. It's eating bland salad with greens and a low-fat dressing (that doesn't have any flavor at all) day in and day out.
After a few gruelling weeks of eating tasteless salads, we learned the hard way that it's not fun but also ineffective.
That's because you need to eat meals that will keep you full and satisfied if you want to lose weight.
Don't get us wrong. We still believe salads are great weight-loss meals because they are fiber-rich and low in calories.
However, ditch the bland recipes. Instead, go for nutritionally balanced salads with high filling power and satisfying flavors.
Here's what you need to build a delicious low-carb weight-loss salad:
Protein sources help maintain healthy muscles, which can help you burn more calories throughout the day.
Fiber-rich foods are highly filling and can curb hunger pangs, so you'll eat less during the day.
Healthy fat sources can provide stable energy levels on a low-carb diet.
Low-carb dressings create a more satisfying and flavorful meal.
We would make you a salad, but we don't have the thyme.
So, instead, we'll share some of our favorite low-carb salad recipes for weight loss. What are you waiting for? Lettuce go! (That's the last, we promise!)
Low-carb Salad Recipes for Weight Loss
Filled with nutritious ingredients, eating salads is the most delicious way to lose weight. Here are your best options:
Table of Nutritional Information for Low Carb Dinner Recipes
| Recipe Name | Calories | Protein (g) | Carbohydrates (g) |
| --- | --- | --- | --- |
| Bruschetta Chicken | 293 | 38 | 5 |
| Everything Chicken Wings | 481 | 32 | 2 |
| Instant Pot Butter Chicken | 517.8 | 30.8 | 8.6 |
| Tuna Salad with Yogurt, Capers, and Za'atar | 227 | 23 | 5.5 |
| Stuffed Philly Chicken Peppers | 259 | 23 | 5 |
| Broiled Salmon | 250 | 24 | 0.5 |
| Tuscan Butter Shrimp | 391 | 28 | 4 |
| Rainbow Chopped Salad | 140 | 5 | 10 |
| Stuffed Salmon Rolls | 38 | 1 | 1.7 |
| Southwest Chicken Salad with Chipotle Dressing | 616 | 42 | 11 |
| Avocado Greek Salad | 305 | 10 | 11 |
| Pesto Shrimp Zoodles | 390 | 13 | 9 |
| Greek Turkey Burgers | 208 | 24.8 | 1.3 |
| Chicken Cilantro Lime and Cauliflower Rice Soup | 204 | 21 | 7.6 |
| Green Detox Kale Soup | 203.4 | 12 | 13 |
1. Salmon Kale Caesar Salad– Classic Salad with a Fishy Twist
As they say, you need to eat fats to lose fats. (*) This classic salad with a fishy twist delivers the healthy fats you need.
Here's why we love it:
Salmon, avocadoes, and cheese deliver fats, protein and calcium
Canned salmon makes this a convenient and affordable recipe.
Kale is a highly nutritious superfood with fiber, antioxidants, and vitamins.(*)
Most of all, the salad's garlicky, savory taste and creamy texture are to die for!
Per serving: 577 calories, 8g fats, 24g protein, 4g fiber, and 5g net carbs
Editor's Tip: Go for pink salmon packets instead of the canned salmon if you want to make a smaller portion of the recipe. (*)
Learn more: https://www.asaucykitchen.com/salmon-kale-caesar-salad/
2. Cobb Salad with Homemade Ranch Dressing – Fresh, Healthy, and Easy
Cobb salad has a bad rap for having high calories because of its high-fat ingredients. The good news is you can use these fats to your weight loss advantage when you're on keto. (*)
Here's why we love it:
Avocadoes, bacon, and blue cheese deliver desired healthy fats.
Chicken breasts provide a meaty bite and added proteins.
Homemade ranch dressing provides the same creamy and savory touch minus the carbs and calories.
All these are served on top of a bed of lettuce so you can enjoy your dose of fiber in the most satisfying way possible.
Per serving: 726 calories, 67g fats, 17g protein, 8g fiber, and 6g net carbs
Editor's Tip: Loser the salad's calorie count by skipping the bacon bits.
Learn more: https://www.thechunkychef.com/keto-cobb-salad-and-homemade-ranch-dressing/
3. Blue Cheese Wedge Salad– Like a Steakhouse's
Most people think this is the healthiest item on a steakhouse menu, but their version is high in carbs and calories and expensive. This simple recipe will let you enjoy restaurant-quality flavors without the cost and calories.
Here's why we love it:
Lettuce wedges make the salad a fancy-looking dish. 
Delicious sweet, savory, and cheesy flavors using only 6 ingredients.
Different textures make you feel fuller and more satisfied. (*)
Try this, and rest assured; you'll never return to steakhouse salad again.
Per serving: 415 calories, 38g fats, 12.9g protein, 2.9g fiber, and 3.9g net carbs
Editor's Tip: Cook the bacon in an air fryer to reduce calories and unhealthy fats. (*)
Learn more: https://www.wholesomeyum.com/wedge-salad-recipe/
4. Bistro Salad- The Iconic French Salad
You don't have to go to Paris to have a taste of France because this salad has all the flavors you're looking for. The best part is it's low in calories and carbs, exactly how a weight-loss salad should be.
Here's why we love it:
Fiber-rich salad greens make this salad highly filling, even with only 83 calories
Low-calorie creamy dressing delivers a satisfying, rich texture and a tangy and spicy taste
Pairs well with different types of toppings and add-ons, so you can customize it to suit your liking
Serve this with grilled, seared, or braised protein, and enjoy a dinner you'll never forget.
Per serving: 83 calories, 9g fats, 0.03g protein, 0.04g fiber, and 0.1g carbohydrates
Pairing suggestions: Go for summer squash and cheese for a classy take. On the other hand, top it off with tomatoes and a few fruit slices to make it summer-ready.
Learn more: https://thecafesucrefarine.com/classic-french-bistro-salad/
5. Ahi Tuna Poke Bowl– A Taste of Hawaii
If you're tired from the usual greens, this recipe is here to spice up your diet—literally and figuratively. This poke bowl is unlike your regular salads because it gives you a refreshing and spicy taste of Hawaii.
Here's why we love it:
Ahi tuna will give you fats and protein without the calories.
A mix of low-carb condiments delivers bright and invigorating flavors.
Vibrant colors create a more satisfying eating experience. (*)
Warning: This Poke Bowl is highly addictive.
Per serving: 152 calories, 2g fats, 29g protein, 3g carbs
Editor's Tip: Serve it with cauliflower rice to keep it filling yet low-carb.
Learn more: https://jenniferbanz.com/diy-ahi-poke-bowl
6. Shrimp de Gallo– Fun and Festive
Is it salsa or salad? It's both! This shrimp de gallo recipe has everything you need to enjoy Mexican fiesta while losing weight.
Here's why we love it:
Fresh pico de gallo flavors with added protein
Shrimp is a light and low-calorie protein source.
Avocado cubes are rich in fiber and healthy fats and add a creamy touch.
Easy recipe that's perfect for big parties.
Per serving: 260 calories, 11g fats, 19g protein, 9g fiber, and 13g carbs
Editor's Tip: Get an avocado slicer for easy prep. (*)
Learn more: https://www.fromvalerieskitchen.com/mexican-shrimp-cocktail/
7. Tabbouleh Salad– A Taste of the Middle East
Okay, the original Tabbouleh recipe is not precisely keto. Replace the bulgur wheat with hemp heart seeds, and you get an instant keto salad recipe that's quick, easy, and bursting with flavor and freshness.
Here's why we love it:
Packed with a variety of nutrient-rich and wholesome ingredients
Bright and fresh Mediterranean flavors that will tickle your tastebuds
No cooking is needed!
Ready in only 10 minutes
Who would've thought that a low-calorie salad could taste this delicious?
Per serving: 136 calories, 11g fats, 6g protein, 2g fiber, and 3g net carbs
Learn more: https://www.lowcarb-nocarb.com/low-carb-tabbouleh-salad/
8. Avocado Egg Salad– Creamy, Fatty, and Healthy
This recipe takes egg salad to a whole new healthy level. It replaces your regular mayo with a keto-friendly alternative—mashed avocado.
Here's why we love it:
Pressure-cooked eggs are easier to peel 
Eggs and avocadoes deliver high amounts of fiber and fats needed to lose weight
Tastier than your regular egg salad
This salad makes the already-healthy egg salad even more keto-friendly.
Per serving: 160 calories, 12g fats, 7g protein, 3g fiber, and 3g net carbs
Editor's Tip: Use this as a filling for your lettuce wraps to get a meal packed with fiber, protein, and fats.
Learn more: https://thatlowcarblife.com/keto-egg-salad/
9. Dill Cucumber Salad- A Refreshing Touch
Spring has sprung, and this dill cucumber salad recipe is what you need to celebrate it in the yummiest way possible. There's no better way to usher in the new season than enjoying this salad's fresh and light flavors.
Here's why we love it:
Cucumber has low calorie and high water content and may aid in weight loss. (*)
Sour cream contains probiotics that promote better digestion. (*)
Only 10 minutes of prep time.
Serve this with salmon for the ultimate spring meal.
Per serving: 55 calories, 4g fats, 1g protein, 1g fiber, and 4g net carbs
Editor's Tip: Replace sour cream with mayonnaise avocado oil to reduce calorie and carbohydrate consumption. (*)
Learn more: https://www.saltysidedish.com/cucumber-salad-recipe/
10. Spicy Watermelon Salad– Sweet, Spicy, and Juicy
On the other hand, this spicy watermelon salad is one of the best low-carb salad recipes for weight loss during the hotter months. This sweet, spicy, and juicy salad will keep you hydrated and refreshed but, most of all, help you achieve a summer-ready body.
Here's why we love it:
Cucumbers and watermelon provide proper hydration and mild sweetness that will get you through summer.
Jalapeño peppers deliver moderate heat and promote a faster metabolism and curbed appetite. (*)
Crisp bacon and parmesan cheese supply healthy fats.
Summer has never been delicious!
Per serving: 154 calories, 11g fats, 5g protein, and 7g net carbs
Learn more: https://www.thefoodblog.net/watermelon-salad-jalapeno-bacon/
11. Curried Cauliflower Salad – Fiber Plus Flavors
Here's a new recipe to add flavor to your weekly salad routine. Thanks to curry powder, you can add zing to a simple cauliflower salad in a keto-friendly way.
Here's why we love it:
A medley of high-fiber, nutrition-rich, and low-carb vegetables
A blend of sour cream, curry powder, and apple cider vinegar provides spicy, warming, and tangy flavors
Who says healthy needs to be bland? This salad will prove them wrong.
Per serving: 163 calories, 13.9g fats, 3.4g protein, 4.1g fiber, and 5.3g net carbs
Editor's Tip: Use a vegetable slicer to reduce prep time. (*)
Learn more: https://afreshlifewithcourtney.com/curried-cauliflower-salad/
12. Big Mac Salad– Without the Bun
A Big Mac won't definitely help you lose weight, but this healthier salad version of the Big M will certainly do! Thanks to its perfect mix of ingredients, it delivers all the Big Mac flavors and helps you lose weight at the same time.
Here's why we love it:
All the elements of your favorite burger without the bun
A salad dressing that tastes like the Big Mac sauce without the calories.
Ground beef is a healthier source of fats.
Only 2g of net carbs  
With this salad, you can indulge in your unhealthy cravings healthily!
Per serving: 273 calories, 21g fats, 19g protein, and 2g net carbs
Learn more: https://lowcarbyum.com/big-mac-salad-low-carb-hamburger-salad/
13. Chimichurri Steak Salad– The Ultimate BBQ Salad
A salad with steak? Count us in!
Yes, it's high in calories, but it's one of the best low-carb salad recipes for weight loss for bodybuilders and weightlifters. That's because it provides the protein you need to gain muscles. (*)
Here's why we love it:
Perfectly grilled skirt steak is the perfect protein source for muscle gain. (*)
Chimichurri sauce delivers a bright and herbaceous flavor with a hint of spice that cuts through the steak's richness.
There's no better post-recovery meal than this.
Per serving: 691 calories, 60g fats, 26g protein, 7g fiber, and 7g net carbs
Learn more: https://www.closetcooking.com/chimichurri-steak-salad/
14. Kombu Salad– Sushi Flavors sans the Rice
Sushi is a no-no for keto dieters, so this kombu salad is your next best bet. This simple side salad is packed with Asian flavors that will make your weight loss journey more flavorful.
Here's why we love it:
Seaweed is low in calories and packed with vitamins and minerals.
Miso paste and soy sauce deliver crave-worthy sweet and savory Asian flavors (replace soy with coco aminos for lower carbs)
Ready in under 10 minutes
Thanks to these kombu salads, your sushi cravings will be satisfied.
Per serving: 29 calories, 1g fat, 2g protein, 1g fiber, and 3g net carbs
Editor's Tip: Use dried Hijiki seaweed to give the salad added pizzaz. (*)
<iframe src="https://assets.pinterest.com/ext/embed.html?id= 357332551694664060″ height="1000″ width="450″ frameborder="0″ scrolling="no" ></iframe>
Learn more: https://40aprons.com/seaweed-salad/
15. Sweet Pepper Salad– The Tiktok Viral Salad
This is one of the most popular low-carb salad recipes for weight loss because it went viral on TikTok, and we understand why. It has the perfect crunch and delicious flavors to satisfy you with minimal calories.
Here's why we love it:
Cucumbers and peppers deliver a sweet and refreshing taste and a ton of nutrients.
Miso ginger dressing provides tangy and spicy flavors and better digestion. (*)
Chili oil for a spicy kick and boosted metabolism.
Made using only 5 ingredients and in just 10 minutes
Fresh ingredients, mouthwatering dressing, and excellent weight loss benefits. What more can you ask for?
Per serving: 132 calories, 14g fats, 1g protein, 0.2g fiber, and 0.8g net carbs
Learn more: https://healthylittlepeach.com/viral-tiktok-cucumber-bell-pepper-salad/